Switchbot is branching out from their smart home curtain robot to include a new smart blinds controller.
Unlike the Aqara Roller Shade Driver E1, the new SwitchBot Blind Tilt is designed for horizontal blinds.
There are not many competing options on the market. SOMA has been a popular option for both roller blinds and horizontal blinds.
The SwitchBot Blind Tilt appears to be superior for most people, but the SOMA Tilt 2 has some advanced integration options that will appeal to users more serious about their smart home.
SwitchBot Blind Tilt
Automate Existing Blinds with Easy Installation
SwitchBot Blind Tilt is made for horizontal blinds with a wand(twisting rod). Different from traditional electric blinds, SwitchBot Blind Tilt is easy to install by yourself in one minute, no need to dismantle a single part from the existing blind.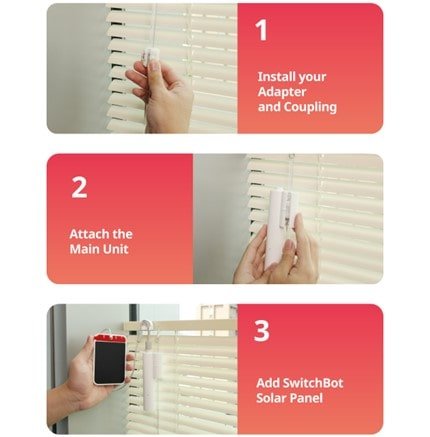 Multiple Ways to Control the Blinds
SwitchBot App supports creating schedules, setting timers, and Sunrise & Sunset mode. It also has a built-in light sensor, so that the blind can adjust automatically when the sunlight is too strong at noon or open the blind when it is cloudy. Users can still control the blinds manually, and the change of status can be recorded by the device shown in the App. You can adjust Blind Tilt to the closest 2.5°
Advanced Motor, Adjusts Blind Slats As Close As 2.5°
SwitchBot Blind Tilt is equipped with an advanced motor, capable of adjusting the blind slats as accurately as 2.5°, so that users can let the sunshine in at an angle that's just right. When users control the blind manually, SwitchBot Blind Tilt can also record it precisely and update the status of the blind in the App.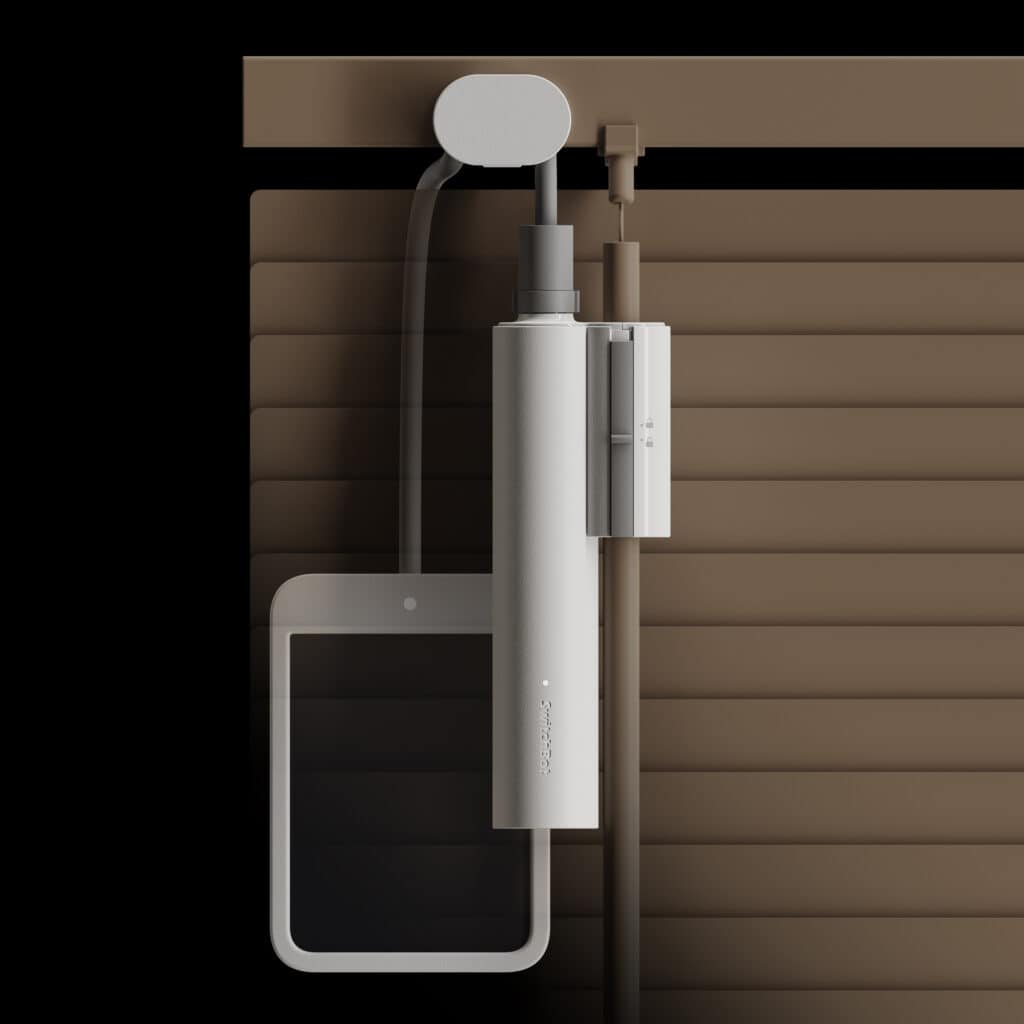 Automation in SwitchBot Ecosystem
Users can click SwitchBot Remote to control the blind. Or touch the SwitchBot NFC Tag with a smartphone to control it. Combined with SwitchBot Hub Mini, users can set multiple Blind Tilts into groups, control the blinds remotely outside, or use third-party voice assistants.
Solar Panel Included
Solar Panel is included in the package, with its internal 2000mAh battery. SwitchBot claims users barely need to recharge the device.
SwitchBot Blind Tilt vs SOMA Tilt 2
Functionally, these do the same thing and automate the turning of the rod of your horizontal blinds.
But, there are quite a few differences, both in design and performance.
The SOMA Tilt 2 requires you to remove the existing control rod and attach the SOMA Tilt cable. Then the SOMA Tilt control box is located on your frame lower down (though some people have mounted the box about the blinds). This has a relatively large solar panel which should avoid the need to plug it in. The battery is USB charged and will last 30 days without solar, and if you have a plug nearby you can leave it presently plugged in.
The SwitchBot Blind Tilt mounts at the top of the blinds, with the unit itself mounting around the existing rod and turning that. With this, you have a smaller-sized solar panel that slots between the blinds and sits on the window. With this, they claim a 10-month battery life and state this should be almost unlimited with solar.
Both systems support iOS and Android via an app and include all the scheduling features you would expect
SwitchBot also supports all AI assistants, including Siri, Alexa, Google, as well as IFTTT, SmartThings, and Line Clova.
You can extend the functionality of the SOMA Tilt with the connect software, which runs on a Raspberry Pi. Running this then opens up control via:
Apple Siri, Google Home/Assistant, Amazon Alexa voice commands
Home Assistant automations and controls
Local HTTP API for DIY integrations
IFTTT
Samsung Bixby voice commands and SmartThings scenes and automations, SmartThings enabled buttons and remotes
Google Home routines, Google Home enabled switches
Amazon Alexa routines, Amazon Alexa enabled switches
Price and Availability
The SwitchBot Blind Tilt pre-orders are now available on Kickstarter for global customers, backers are expected to receive their products on 21th October.
SwitchBot Blind Tilt is available for discounted pre-sale at $69 on Kickstarter, and more bundle choices are available.
I have not been informed of the final RRP yet but I will update this comparison when it is available.
The SOMA Tilt 2 is available in the US for $150 and in the UK for £130 and is available now.