The Internet of Things (IoT) is no longer a buzzword — it's here to stay and growing rapidly. According to Fortune Business Insights, the IoT market will grow to $1.9 billion by 2028 at a CAGR of 25.4%.
From faster speeds to more connectivity options and improved security, the many benefits of 5G wireless connectivity for smart devices are hard to ignore.
In the past five years, smart devices have gone from small household gadgets (think Amazon Echo Dot) to powerful tools to help small businesses increase security measures and productivity.
In this post, we'll share four ways 5G wireless connectivity and smart devices can help grow your small business in an increasingly digital world.
Let's dive in.
As internet penetration continues to climb across the world, customers expect a seamless digital experience, even when interacting with small businesses.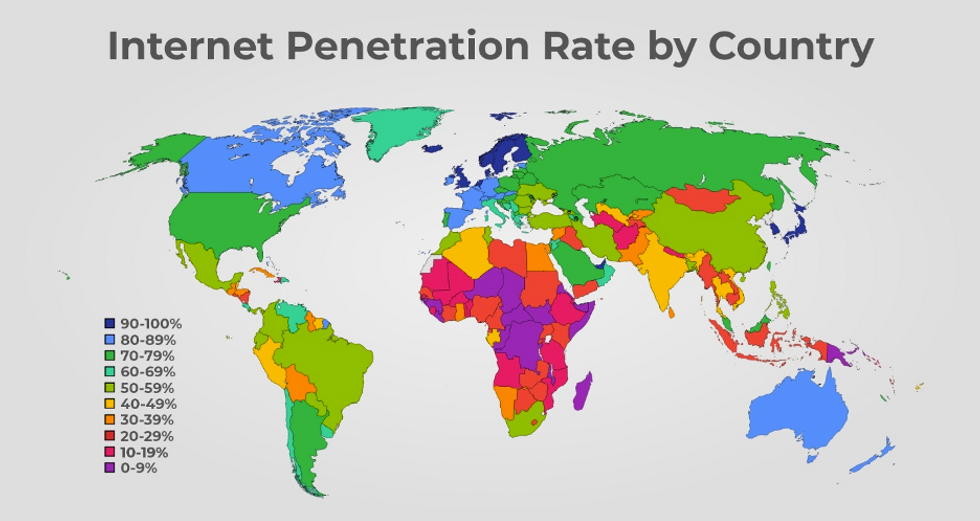 A picture of the Internet Penetration rate by countryInternetAdvisor
But unfortunately, 80% of US small businesses are falling behind and not taking full advantage of digital tools. So, it doesn't take much to stand out from the crowd.
Investing in smart devices is a great way to communicate with your customers. They allow your customers to interact with your brand in real time by delivering a wide range of services, from digital payments to tracking inventory in your store.
Not only does adding 5G wireless connectivity to smart devices improve communication with customers, but it also benefits your employees when they are working remotely. As remote work transitions into a new normal post-pandemic, staying connected is more important than ever.
Cell phones and cellular connectivity will continue to play a key role in keeping employees connected and productive when working from home. For instance, employees often use their cell phones to stay on top of their tasks through project management apps and communicate effectively with co-workers using Zoom and Slack.
According to a study by Google, digitally advanced small businesses are twice as likely to have collaborative employees than those at a basic level of digital engagement. Collaborative employees lead to high-value, innovative and productive outcomes for businesses.
If you are a small dental practice, you can use 5G-enabled devices like iPhones or iPads and hire a virtual scribe to take notes during exams and procedures. Ditch the pen and paper once and for all.
By outsourcing administrative tasks with the help of a smart device, your dental office can reduce costs and focus your resources on other critical growth opportunities. It's a win-win.
Cybercriminals have shifted from attacking the network perimeter to targeting users like employees, contractors, and vendors. With the average data breach for a small business costing $108,000, there's no room for error.
If a user's account is compromised, the cybercriminal can see everything the user has permission to view. That's why it's more important than ever to make sure only authorized users have access to sensitive data by using the proper access management protocols on all mobile devices.
Modern 5G network technology also comes with enhanced user authentication and stronger data encryption, making it easier to analyze data and threats, and providing better security for end-users on your network.
The same protocols are crucial to the security of your brick-and-mortar location when using smart locks, sensors, and alarms to prevent theft and control employee access. These devices allow you to grant employees access to your building, revoke access, and lock doors remotely from a computer or phone.
Still not convinced about the power of smart devices to improve security measures? Let's look at the fleet management and telematics industry as another example.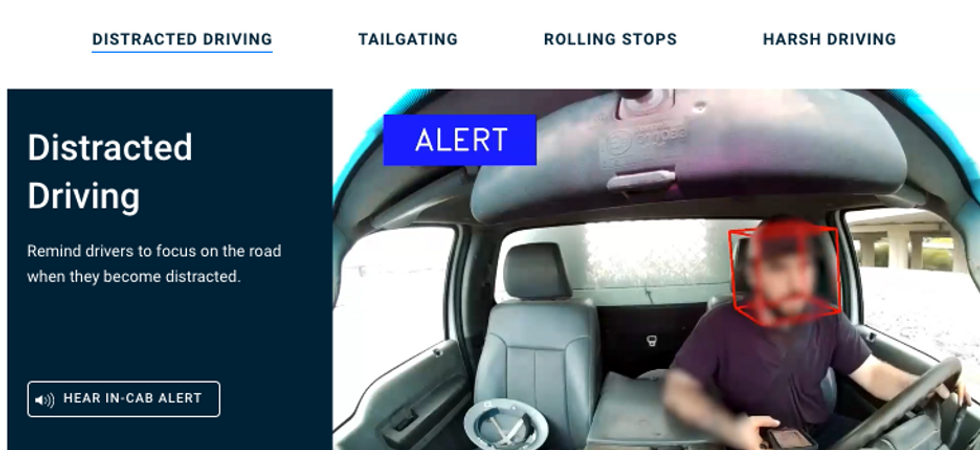 Dash cams capture distracted drivers.Samsara
Businesses in this sector use smart devices like fleet dash cams, electronic logging devices (ELDs), and GPS to seamlessly track driver activity and safety from around the world.
From reviewing footage of collisions, near-misses, distracted driving, and more with HD footage uploaded to the cloud within minutes of an event occurring, this technology is proven to protect drivers and lower costs.
Additionally, the recent pandemic highlights the need for smarter supply chain tracking and logistics. Remember when toilet paper was nowhere to be found?
An enhanced 5G connectivity efficiently moves real-time data between suppliers, distributors, retailers, and customers to create an intuitive supply chain that keeps your business running at peak performance.
With faster and more reliable connections, small businesses can work more efficiently using online tools, collaborating with other teams, or working remotely with customers.
Leveraging the speed and capacity of a 5G network can help your employees be more productive by providing faster turnarounds for the job at hand. Their workflows will become more efficient as web pages load in real time, downloads for business-related apps happen quickly, and they receive instant access to important business documents on the go.
For example, suppose you're starting a small photography business where you create books, albums, or other products using an online photo collage maker and editing tools. With access to 5G wireless connectivity on location at your big photo shoot, you can upload the photos directly from your camera to share a sneak peek with your client online.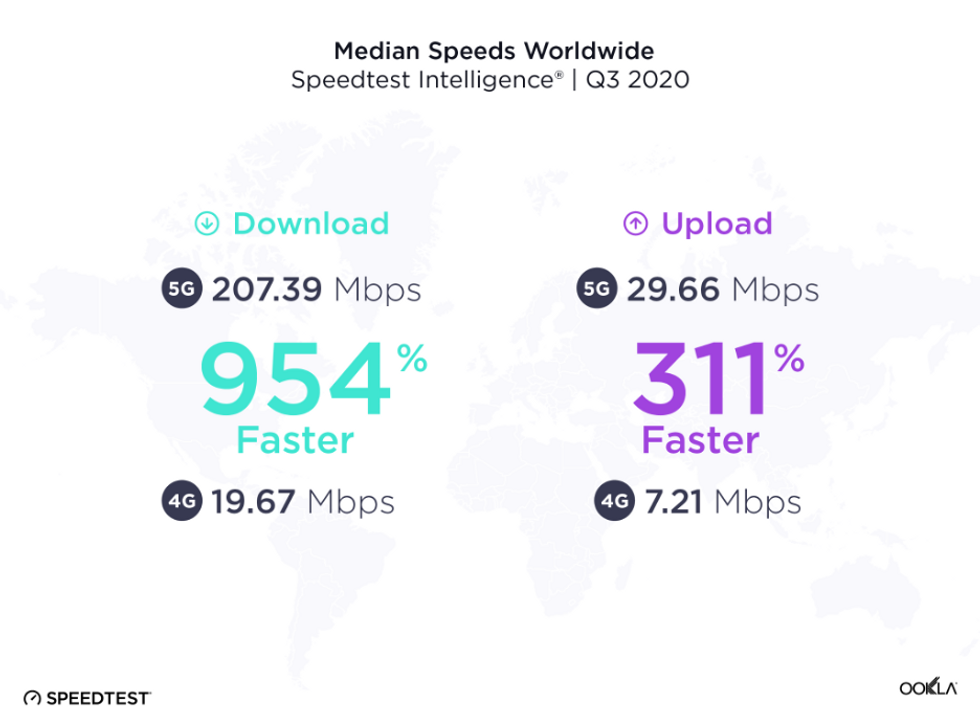 Media Speeds Worldwide by Speedtest from Ookla 5G ReportOokla Report
And when it comes time to handle heavy files such as .TIFF photos, you won't be bogged down while they transfer from one device to the other. A 5G wireless connection speeds up transfer times and allows you to create high-quality photo books in record time (without sacrificing quality).
An efficient workflow is a recipe for success in a small business. Time is money. And every second counts.
A good customer experience is worth its weight in gold.
Why? Because word-of-mouth drives five times more sales than paid ads. And 85% of small businesses are discovered through word-of-mouth recommendations.
When customers have a good experience, they share it with their friends, family, and colleagues. And thankfully, you don't have to break the bank to provide a positive customer experience by incorporating it into your sales strategy.
A recent study by weBoost shows that almost half of Americans agree that staying connected with a strong signal on their smartphones is important while shopping in-store.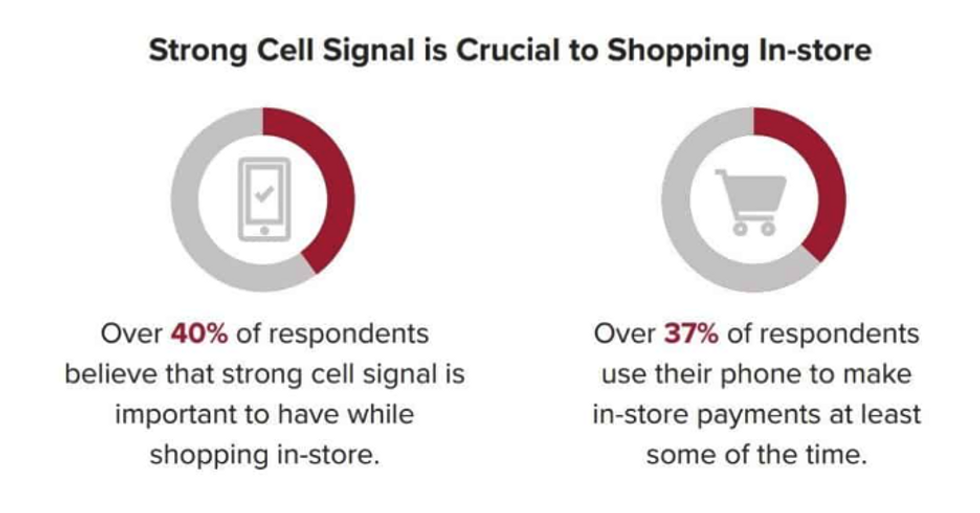 See how important a strong cell signal is when shopping in a store.Weboost
Cellular connectivity makes shopping in-store more convenient than ever before, with digital coupons and contactless payments available at their fingertips. Additionally, consumers turn to their smartphones as a research tool to look up product reviews, compare prices, or find alternative store locations.
Not only does a strong 5G connection streamline the shopping experience, but it also allows for a greater level of personalization and communication capabilities (regardless of the industry) to engage with customers and provide an enhanced shopping experience.
Let's look at a few examples.
For small brick-and-mortar retail stores, such as a surf or skate shop, you can subscribe to specific TV packages to broadcast sports channels across various devices throughout the store to inspire or spark emotions in your customers.

"I want to surf until I'm 70!" – Kelly Slater | Exclusive Interview

Subscribe to @olympics: http://oly.ch/Subscribe There is no end in sight for surfing legend Kelly Slater. The 11-time world …
A teenage boy who is on the fence about purchasing a surfboard might see a video of Kelly Slater dropping into the Banzai pipeline while shopping in your store. This simple interaction could be the spark that ignites his confidence and inspires him to pull the trigger, purchase the surfboard and tackle the thrill himself.
But the benefits don't stop at brick-and-mortar stores. Ecommerce stores can also benefit from a strong, reliable 5G connection to improve the customer experience. Arguably, it's even more important for ecommerce sites.
With ecommerce, your website is your storefront. And if your website is slow to load (or doesn't load on mobile devices at all), your bounce rate will skyrocket, leaving you with frustrated customers and minimal sales.
And now, with more than half of all internet traffic shopping coming from a mobile device, it's crucial that your website is optimized for mobile devices.
A fast, reliable website is all it takes to create happy customers. Happy customers often turn into loyal customers. And loyal customers are your best brand advocates, driving word-of-mouth marketing and boosting your sales without any effort on your behalf.
Let's dive into an example of word-of-mouth in action.
Sally is a young professional who struggles with social anxiety in the workplace. At lunch, Emily, her sole confidant in the office, shared that she uses a telehealth provider to buy escitalopram online and loves the convenience factor. She doesn't even need to take personal time off since everything is done online through her smartphone.

How to get drugs online via tele-healthforhers.com
Sally is so relieved. She blocks off 30-minutes in a conference room later that day to book an online consultation with the telehealth provider. Within two days, she receives her anxiety medicine in the mail and returns to the office as a happy camper. The next day, she makes small talk with Janet and tells her about her lovely experience.
Emily turns Sally into a paying customer within a five-minute conversation at no cost to you. Now Sally is telling Janet about her positive experience, another potential customer. Doesn't that sound idyllic? A chain reaction if you will.
So, what is the key takeaway? Regardless, if you are a small brick-and-mortar retail store or an ecommerce site, a fast, relatable connection for smart devices is a critical component for providing a positive shopping experience to drive more sales.
What is the current state of technology and digital tools in your business? If you are still using 4G (or worse, pen and paper), it's time to upgrade. Smart devices with 5G wireless connectivity can help you run your business more efficiently.
Technology can go obsolete in the blink of an eye. But that's why you shouldn't wait to take advantage of these smart devices. It's up to you to strike while the iron's hot. Give yourself a competitive edge and beat the 80% of small businesses falling behind.
Ryan Robinson. I'm a blogger, podcaster and (recovering) side project addict that teaches 500,000 monthly readers how to start a blog and grow a profitable side business at ryrob.com.
TP-Link Deco AXE5400 Tri-Band WiFi 6E Mesh System(Deco XE75 Pro) – 2.5G WAN/LAN Port, Covers up to 7200 Sq.Ft, Replaces WiFi Router and Extender, AI-Driven Mesh, New 6GHz Band, 3-Pack
From Your Site Articles
Related Articles Around the Web