Android Auto is getting a fresh look that should help you make it easier to get where you're going, let others know where you are and have more fun along the way.
Last week at CES 2023, I had a chance to see the new Android Auto interface close up; the revamped interface is rolling out to every device that uses it, so let's take a closer look at the changes coming.
As a Google representative explained to me, the general philosophy behind the changes were to get more of what the driver needed up front, and requiring fewer button presses. This will hopefully cut down on the time you'll be staring at the screen, and not at the road ahead.
I saw the new Android Auto in a BMW i7, which has an impressively large display that wraps from the center console all the way across to the driver's side window. While it's doubtful that many of you reading this own the i7 — which starts at $120,000 — the same layout will be available across all screens.
The biggest change in Android Auto is that the map has now been moved closer to the side of the screen where the driver is sitting. In retrospect, this seems a pretty obvious and sensible decision. The maps themselves have also been upgraded — at least for those cars with Google built-in, such as the Polestar 3 and Volvo EX90. The new HD map now has greater detail, such as lane markers, signs and road barriers. These are meant for the driver as well as for autonomous vehicle features, so that the car better knows what's around it.
To the right of the display is a new card that shows the album art of the music that's streaming through your car's stereo, along with some media controls for skipping and pausing tracks. This way, you don't have to dig too far to change your tunes. Google also added a seekable progress bar for music and podcasts, which it says was one of its most-requested features. It should be noted that you can also hide this panel if you want the map to fill the screen.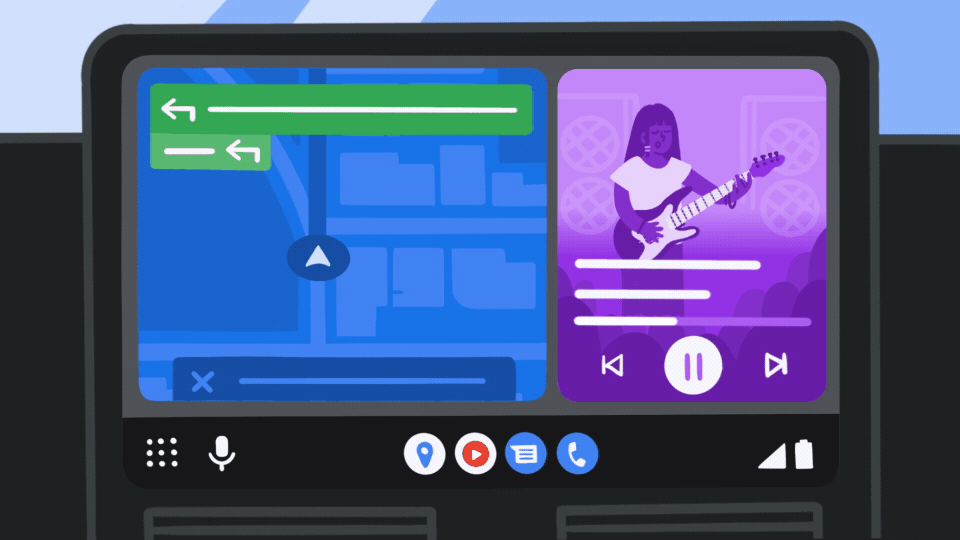 Along the very left-hand side of the screen were a vertical row of recently used apps; in the Bimmer I sat in, it showed icons for Spotify, making a phone call, looking at your calendar, and summoning Google Assistant.
If you receive a call or a message while you're driving, it'll appear in a small window right above the music card, and Google Assistant will display some quick replies you can send, such as "I'm driving." 
You can also tie in your navigation with your calendar, so if you're stuck in traffic, you can automatically send a status update to the contacts in your meeting, letting them know you're running late, and the time they can expect you to arrive. 
In all, these look like pretty sensible improvements to Android Auto. While they're not reinventing the wheel — so to speak — they should improve driving.